Barbara L. Jordan Workshops
Her workshops engage the participant in the sort of serious play that is the very soul of creativity.
–Eric Maisel, world renowned creativity coach and author (Wikipedia)
A Barbara L. Jordan Workshop is perfect for your next corporate retreat, meeting, or event.
This one of a kind event will help your participants open up and find new ways to resolve conflicts and improve communications. In short, it is ideal for building highly effective teams.
Barbara's playful approach to creativity and innovation builds deeper understandings between individuals and the group. The result is that collaboration is enriched along with mutual support.
Barbara's method uses song and other techniques to unlock creative potential. Through the use of writing, making art and music, participants bust through cognitive blocks and get thinking creatively about the problems they face in the workplace everyday.
Read the comments below from actual participants and you will appreciate the amazing benefits of a Barbara L. Jordan Workshop for your next corporate or group event.
Barbara Jordan offers safe and engaging exercises to free your creative voice and nurture the songwriter within. I have used it with my music therapy clients with wonderful results. I highly recommend "Songwriters Playground"!
–Dr. Louise Montello author and music therapist
What participants have said about
Barbara L. Jordan Workshops…
The most fun I've had with my socks off.
Allowed me to exercise creative muscles I didn't know existed.
The most lively, joyous and affirming workshop I've ever attended. A mature and delightful depth to Barbara's presentation.
Very innovative exercises. Great for triggering ideas and gaining access to the subconscious instead of "waiting for it to happen".
I'm usually inhibited, but these exercises made more than a few walls come tumbling down.
The workshop shed a new light on my writing. It allowed me to re-focus and re-evaluate why I write and it confirmed for me that there is a reason for instincts and that they can be followed. Whereas before, I too often had to "wait for the muse" to be on my shoulder, I now feel comfortable in "inviting the muse to me"!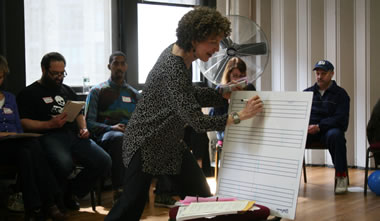 Barbara is the quintessential workshop leader; very informative, succinct in presenting concepts and efficient in delivering the intangible in solid form. Her own enthusiasm for writing was channeled through her lessons.
Lively provocative workshop leader. She has the ability to get us through our barriers quickly.
Very centered, grounded, vital energy. Kept me engaged the whole time. It reminded me that the important aspect of writing is the process, not just the end result.
Her exercises are terrific – she really knows how to bust through creative blocks and inhibitions, and compels one to stand and deliver. I had a great deal of fun and came away greatly inspired.
She is a dynamic and exciting personality – held my interest and had good knowledge and information and activities and ideas to present.
Sparks turn into creative fire in her workshop.
The exercises were amazingly imaginative, and they made me approach songwriting from a different angle.
Barbara's energetic, gets people going, and gives people an opportunity to take chances.
Very clear, very enthusiastic presentation. Her energy is infectious.
It was great to start from "Square One" with the thought process and then write a song in 20 minutes!
Barbara is a rare and gifted talent, teacher and human being.
I had so much fun! Even though many of the exercises are simple, it does often taking something like this to get folks out of their heads.
Very clear and enthusiastic, charming. I could feel my creativity flowing.
I had already read the book and knew that the workshop would be great, but it was even better than I had expected. The exercises were fresh and very dynamic done in a group.
Incredible! I learned about certain approaches I never would have thought of, but most importantly, I wrote certain kinds of songs I have never written before. I really learned a whole lot more about myself as a writer, a performer, and as a person than I ever expected.
Barbara is wonderful in every way. The lady knows of what she speaks.
Great information on everything I need! And great, wonderful practical information on lyric writing!
Barbara's approaches, suggestions, and exercises were amazingly imaginative.
It allowed me to exercise creative muscles I didn't know existed. Barbara's presence, as well as her own expertise in songwriting, served as a source of energy and inspiration.
Learned ways to write fast, brainstorm, how to "have a conversation with the song' – all extremely helpful techniques.
Very different than any other songwriting technique – uplifting!
My career has really gotten a kick in the ass because of the workshop. As this was the very first songwriting class I've ever had, I have to say it surpassed any expectations I had. I haven't taken a class because I thought it would try to make me write songs in a formulaic way. The opposite is true. This was a truly a playground where writers can let go of the ties that bind them.